2001 - What's new
December 6, 2001, Guizhou Administration College, Guiyang, China
Programme Expert Visit To The Provinces Mr. Zimmermann's topic in Guiyang is New Public Management(NPM), which is quite new in China. There were eighty participants attending his lecture, among them are leaders and teachers of the college, government officials as well as students of the college. All the participants show ed great interest in his lecture. They said that through the lecture, they learnt a lot about the reform in western countries, which can be used as reference in the reform of China. Mr. Zimmermann has also accepted the invitation of Guizhou Administration College to be a guest professor.
November 20, 2001, Chongqing, China
Review on "Junior TOT" in Chongqing
52 participants whom we chose among more than 80 candidates attended this programme, including 37 presidents, vice presidents or training directors from local administration schools in Chongqing and 15 trainers from Chongqing Administration College(CAC). Their age ranks from 51 to 27.
During the period of this programme delivery, Eliane Darbellay, Programme Officer of South East Division of Swiss Agency For Development And Cooperation (SDC) visited our institute. On the 12 th afternoon she visited Mr. Hüsler`s class and after then madeS a speech to all the participants. She said what she witnessed, such as so many participants, so vivid class atmosphere, rich class work participants did, and so on, given her a great surprise. She expressed that as a small part of Sino-Swiss Cooperation Programme, this TOT demonstrated that Sino-Swiss Cooperation Programme is sustainable, and that the Cooperation Programme chalked up good results not only at the national level but also at the local even grass root level.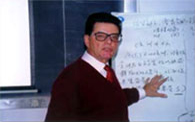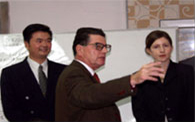 At the end of TOT, we conducted a discussion about the gains 52 participants received from this programme. They felt satisfactory about Mr. Hüsler`s work in Chongqing and were deeply moved by Mr. Hüsler`s conscientious attitude to job. They listed 12 points about what they got from training as follows:
realized some ideas on the west adult training;
experienced such characteristics of modern adult training as asking trainee`s participation, building learning environment, showing concern for individuals, etc.;
elementarily grasped how to do need analysis in adult training;
basically comprehended 5 approaches to realize learning objectives;
elementarily mastered 10 methods to be used on adult training class;
were able to do icebreaking, discussion, role playing and case study;
were able to build training scenario step by step;
knew a lot of layout styles about classroom;
understood how to treat several outbursts on the class;
understood basic ideas on training evaluation and were able to conduct it;
were cognizant of the significance of learning through lifetime;
shared experience from each other, and improved friendship.
Participants presented that to put what they got from training into practice will be helpful for them to solve such realistic problems as:
to improve pertinency of training to trainee`s needs;
to classificatorily organize training content and stratify it according to different candidates by means of improvement of training objectives-setting;
to strengthen training management in term of whole sides and entire process evaluation;
to boost up investigativity of interaction between trainer and trainee by discussion, case study, role playing and so on;
to heighten ability to deliver courses, like using gesture, facilitating, and controlling;
to make them feel more confident when facing senior trainee because of training techniques they grasped.
Our standing president Mr. Zhou Yong speaks highly of our TOT and has highly appreciated Prof. Urio and ECMI. He said that the success of TOT strided the first step for ECMI and CAC (Chongqing Administration College) to jointly put cooperation advance, and that we look forward to making more effort to shoulder ECMI's commitment.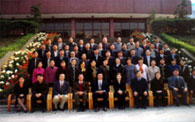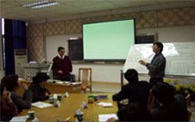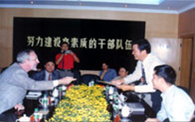 "Theory & Technique of Modern Training" Programme Participants List
November 14, 2001. Geneva
The Sino-Swiss Program has also continued to develop its on going programs. Such as the Case Study Program that will complete it's second phase in December. With a week seminar by Dr. Mc.Gill and Mrs. Brockbank authors of "Facilitating Reflective Learning in Higher Education" and "Action Learning a guide for professional, management & educational development".
The Program has also continued to develop the TOT Follow Up Program by sending to China Dr. Hockey from the Civil Service College for a seminar on Career Development of Civil Servants.
November 13, 2001. Geneva
Over the last few months the Sino-Swiss Program has also send a number of experts(EAE) to China. Thus starting up the "Visit of Expert to the Provinces" program.
Mrs. Baumann (Member of the ECMI Board) gave a seminar in Gansu on Social Insurances
Mr Hüsler (Nestlé) gave a seminar in Quinhai on Performance Management, Recruitment and anagement Development. And also a seminar in Chongching on Training Methods and Techniques.
Professor Zimmermann (AIT, Bangkok) will give a seminar on New Public Management in Guizhou at the end of November.
November 13, 2001. Geneva
The CTCSPMO Senior Delegation is this years final group to come to Europe. The Sino-Swiss Program will welcome them to Europe from the 1st until the 14th of December. This group will meet Political and Institutional leaders in Switzerland, France and the United Kingdom.
November 12, 2001. Geneva
The "Gansu Action Learning Group" is currently in Europe from the 7th until the 25th of November for the European Session of this program. They will be attending courses and seminars by Institutions and Companies in Switzerland and France. Such as: Ciba S.C., ENA (Paris), The French Interior Ministry, Nestlé...
Before coming to Europe they attendend courses in Lanzhou (Gansu Province) by:
Dr. Deussen (Asian Institute of Technology, Bangkok) on Action Learning, Organisational Design
Professor Rojot (Sorbonne University, Paris) gave a seminar on Performance Appraisal and Human Resources Management
Mr.Senn (Holcim, Switzerland)gave a seminar on Management of Training
November 11, 2001, Doha WTO ministerial 2001
China has notified the WTO that it has ratified its membership and will now become a full member, the WTO's 143rd, on 11 December 2001. It deposited its instrument of ratification with WTO Director-General Mike Moore immediately after signing the membership agreement on 11November.
NOVEMBER 12, 2001, GENEVA-ECMI
Training Urgent For China's Transition
China's entry into the World Trade Organisation(WTO) requires the government and business community to be on par with global norms. ECMI will be prepared to conduct more tailored training for Chinese government officials and corporate managers to gain valuable information and skills from European countries' experience.
According to statistics of China Daily, more than 400,000 overseas training projects have been presented since 1978, the beginning of the nation's opening up campaign. In the year 2000, over 40,000 trainees were sent abroad for training in business management, public policy, environmental and trade issues, etc..
After WTO entry, Chinese firms and officials need to have a comprehensive understanding of the impact that the WTO entry will have not only in general but also on different sectors.
October 25, 2001, Geneva
The 8th Sino-Swiss Senior Executive training programme - Europe Session opened on October 15, 2001 in Bern. There are 22 Chinese senior managers from public sectors participate in the Europe Session training. Most of them come from big state-owned enterprises, such as China Aerospace Machinery & Electronic Corporation; China United Telecom; China National Offshore Oil Corporation; China Yangtze Three Gorges Project Development Corporation; Wuhan Iron & Steel Group; China Ocean Shipping Group, etc.
The three-week training session is composed of various management issues, with a focus on Human Resource Management. Main participating organisations are OFPER, SDC, Federal Finances Admin., Conseil d'Etat Geneve, Credit Suisse, Nestle, WTO, L'Oreal, Sofrecom, Hauts de Seine(France), Air France, and Civil Service College and I&Dea of Great Britain.
October 4, 2001, Geneva
The visit of Mr. Urio, the ECMI President, and Ms Wang in September in China has achieved fruitful results. Quite a few potential projects are under discussion between ECMI and Chinese partners.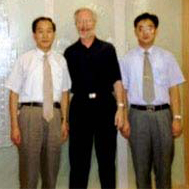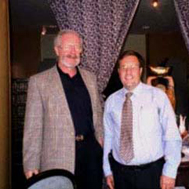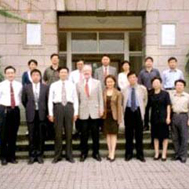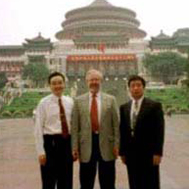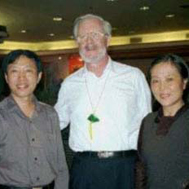 August 25, 2001, Geneva
ECMI's president, Prof. Paolo Urio is planning an exploration trip to China in the second half of September in order to investigate the training needs in China and gather market information, he would like to visit some principal Chinese cities, and meet several international training and cooperation organisation. The visiting schedule is under editing.